Interislander
P
0800 802 802 or +64 4 498 3302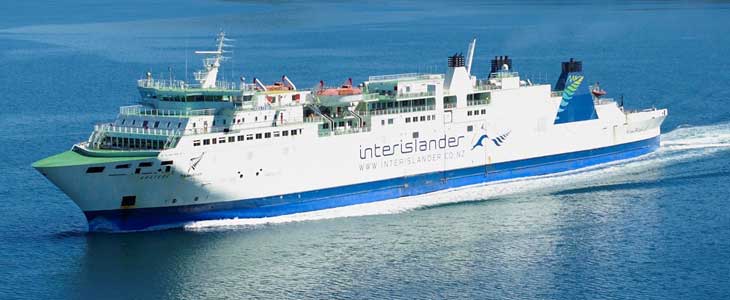 If you're planning a cycling holiday that includes the New Zealand Cycle Trail in both islands, come onboard and enjoy more of New Zealand's beautiful scenery on the stunning three-hour, 92-kilometre journey between Wellington and Picton.
Our three ships (Arahura, Aratere and Kaitaki) ply between these two ports up to eleven times daily and throughout the day, so you will always find a convenient departure time. Interislander has been doing this since 1962 and has built itself a reputation for safety and reliability.
Interislander is where the journey itself becomes the destination. The friendly on-board service and our facilities of high standard complement the stunning and varied scenery that slips by.
It's easy to drive straight on and off our ships, no matter the size of your vehicle. And if you have a bike rack on the rear, there is no extra charge.
If you're travelling without children, you can upgrade for a steal to one of our comfortable Premium Lounges, where all food and beverage, including beer, wine and a hot meal are provided.
If you're travelling with children, hire a cabin with private facilities or keep the little ones entertained in the Family Area with visiting clowns and magicians, or in one of our air-conditioned cinemas.
You can look forward to your crossing with Interislander as being a great way to relax between cycle trails, whilst enjoying some of New Zealand's best coastal scenery.
Find out more on the Interislander website, including timetables, pricing and how to book.